Since 1998 I've always used Epson printers until this year. Printer models I have owned since 1998...
Epson Stylus 640 - Parallel Port only, good machine but had to move with the times.
Epson Stylus 830u - Junk! Leaked ink everywhere after a few months
Epson Stylus R240 - Still around somewhere, fairly reliable
Epson Stylus PX810FW - Someone binned it due to blocked heads...don't ask!
Epson Stylus PX830FWD - Still around but has dead/leaking print heads
Epson Expression Premium XP-830 - The final straw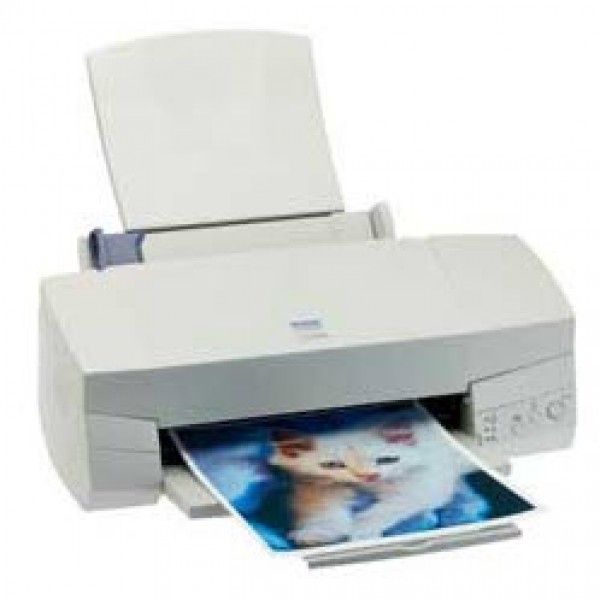 Why was this the final year of Epson use? Well when I desperately needed to print something recently in black & white, the XP-830 wouldn't allow it as despite there being PLENTY of black ink, someone had used up one of the colours the week previous. As it turns out Epson gives you a few days grace between running out of one colour before it locks up! I'm not putting up with anti-consumer crap...so that was it, Epson and I are finished! On to eBay it went!

It just so happens I was looking for an upgrade anyway in the form of an AIO device that could scan/print/copy in A3. I also needed a device that could scan to FTP/SMB network folders without the use of a PC, it just makes things easier for those that struggle with operating tech lol. I also started using Paperless which is an awesome little project for electronic document management. Having the network scan option is great as I just need to load the ADF up, one set of documents/multiple pages at a time, scan to the folder then Paperless takes over which will categorize the scans according to heuristic learning/ set of instructions. Check out Paperless here.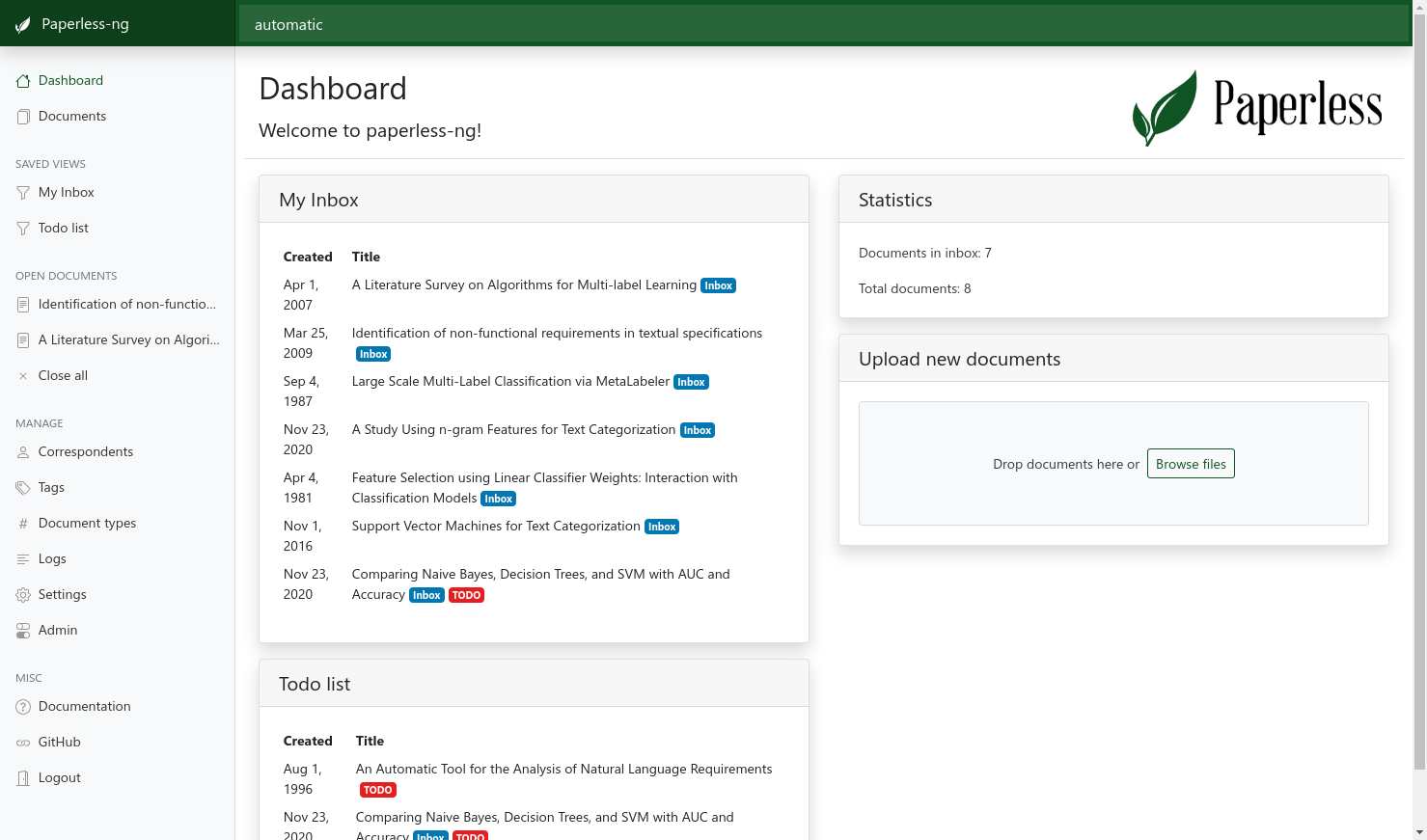 None of the mainstream big names had such a device in an acceptable price range plus I was intending on fitting a continuous ink system, usually that meant performing invasive surgery/ permanent modification on the unit. I then decided to check out the second hand market, specially brother printers as they are in wide spread use in industry and are regularly swapped out/upgraded just like other enterprise hardware. I had used Brother units in my line of work before and while the software GUI leaves a lot to be desired, the functionality/features are excellent....On to ebay I went in search for such a unit!
MFC-J5335DW
I came across an MFC-J5335DW going for £70 which had all the features I wanted, seen as the previous Epson was sold for slightly more than £70 it was cost neutral...sweet! Anyway I bought the thing only to discover next day, after reading the manual, that Brother were a bit creative with their descriptions. As it turns out it is indeed an A3 printer but only an A4 scanner...feck! No big problem as it was more or less a straight swap for a better machine without Epson's BS firmware. So off I went in search again...I then discovered that the J5335DW has a bigger brother in the form of the J6530DW! Both from the same generation and take the exact same cartridges, always good for redundancy! Back on to eBay only to find one minutes later for £140...snapped that up instantly as they retail for a few times that.
A few days later the J5335DW arrives from ParcelForce. The seller had put the printer inside of a large, tight fitting plastic container, excellent idea. Unfortunately ParcelForce had kicked the thing all the way up from down south resulting in the plastic container smashed in one side, the printer though was okay after a few test scan/prints...or so I thought. A week later my sister came down to use the thing were she discovered the ADF on the unit wasn't working! Not surprised after ParcelForce had given it a good seeing too. It could have been that way before shipped, no idea.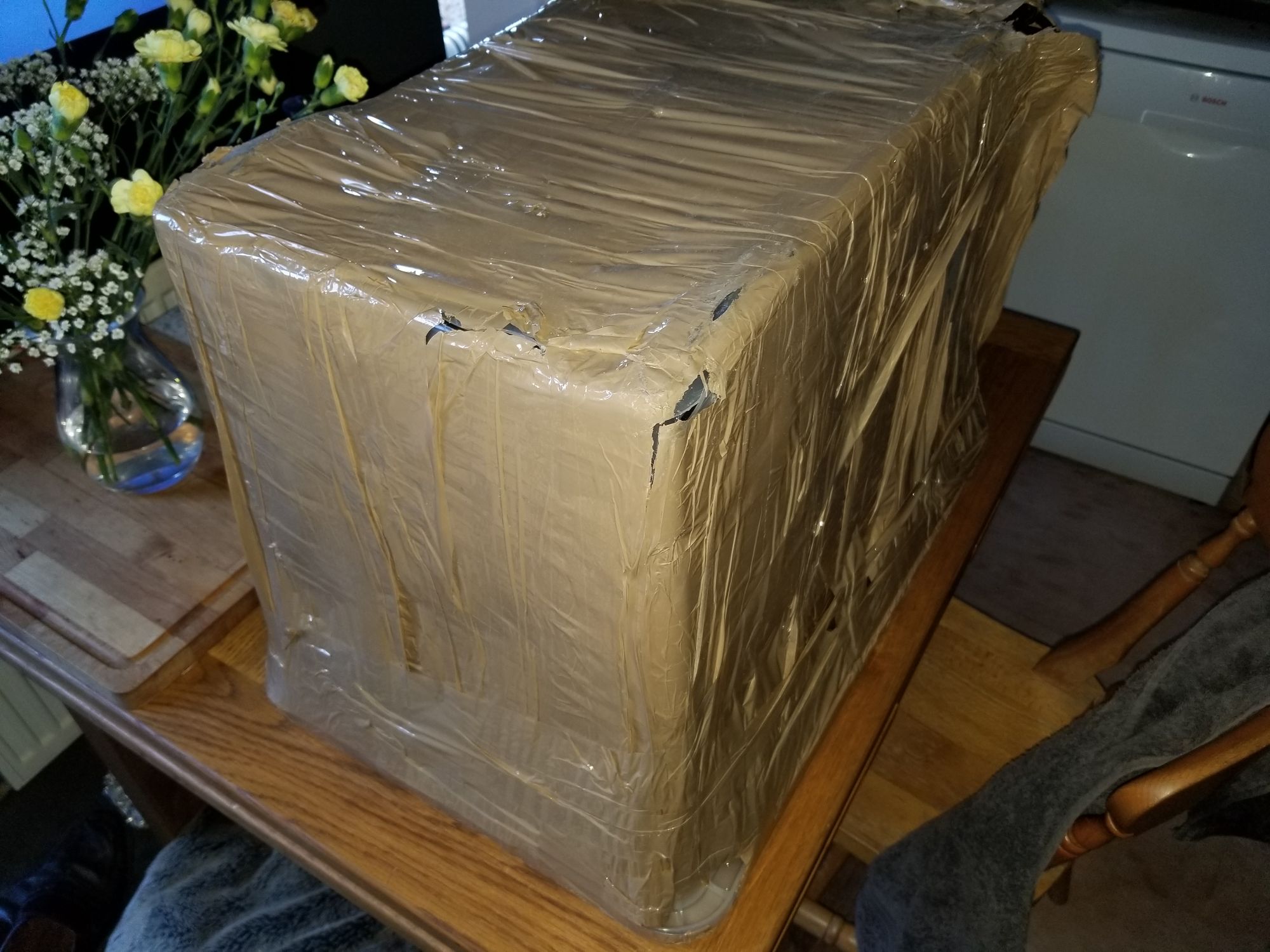 I didn't want the hassle of returning it which would have been almost a 3rd of what I paid for the unit...it was surgery time. Pulled the plastic panel off to reveal the gears to see what was going on, the issue was instantly visible.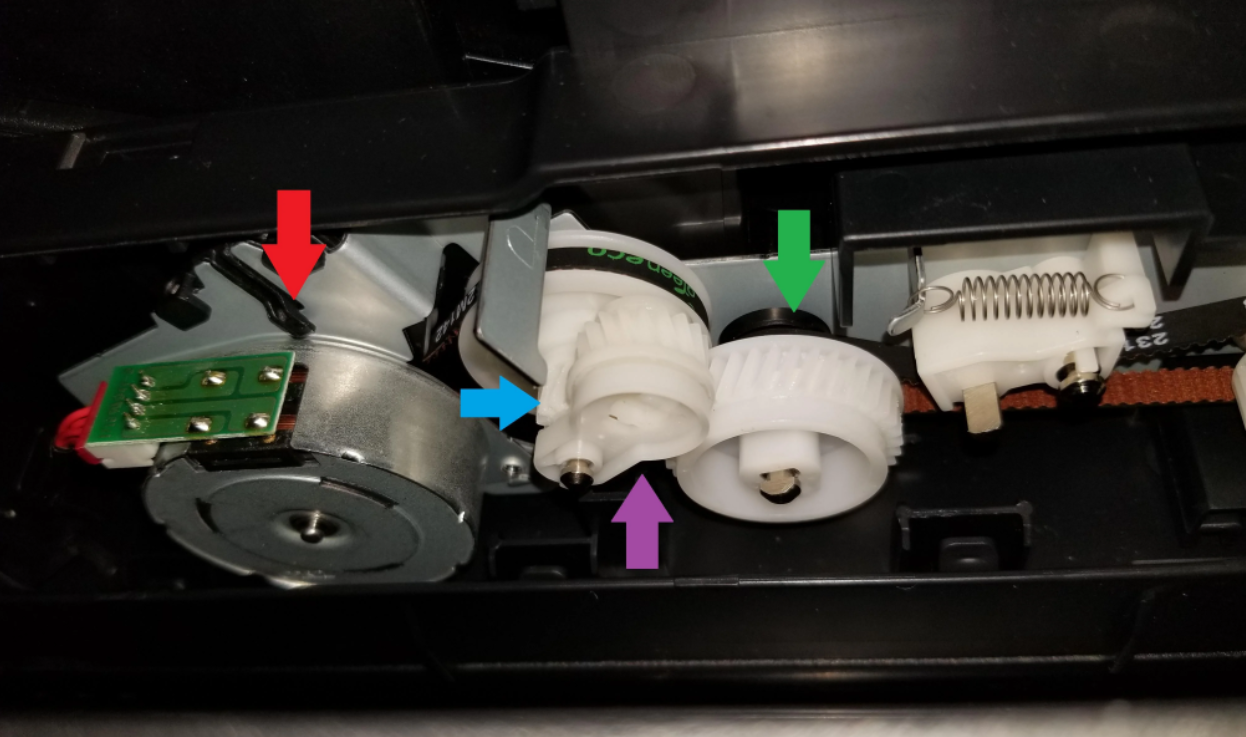 Red Arrow - Electric Motor
Blue Arrow -  Drive Cog
Pink Arrow - Transmission Arm with Helical Gear
Green Arrow - Document Pull Roller Gear
Right so the way it works is this...
Motor engages
Motor turns the drive cog
Drive cog forces the helical gear in the opposite direction
Transmission Arm is pushed in the down direction by the opposing rotation
Helical gear engages with the Document Puller Gear drawing in the page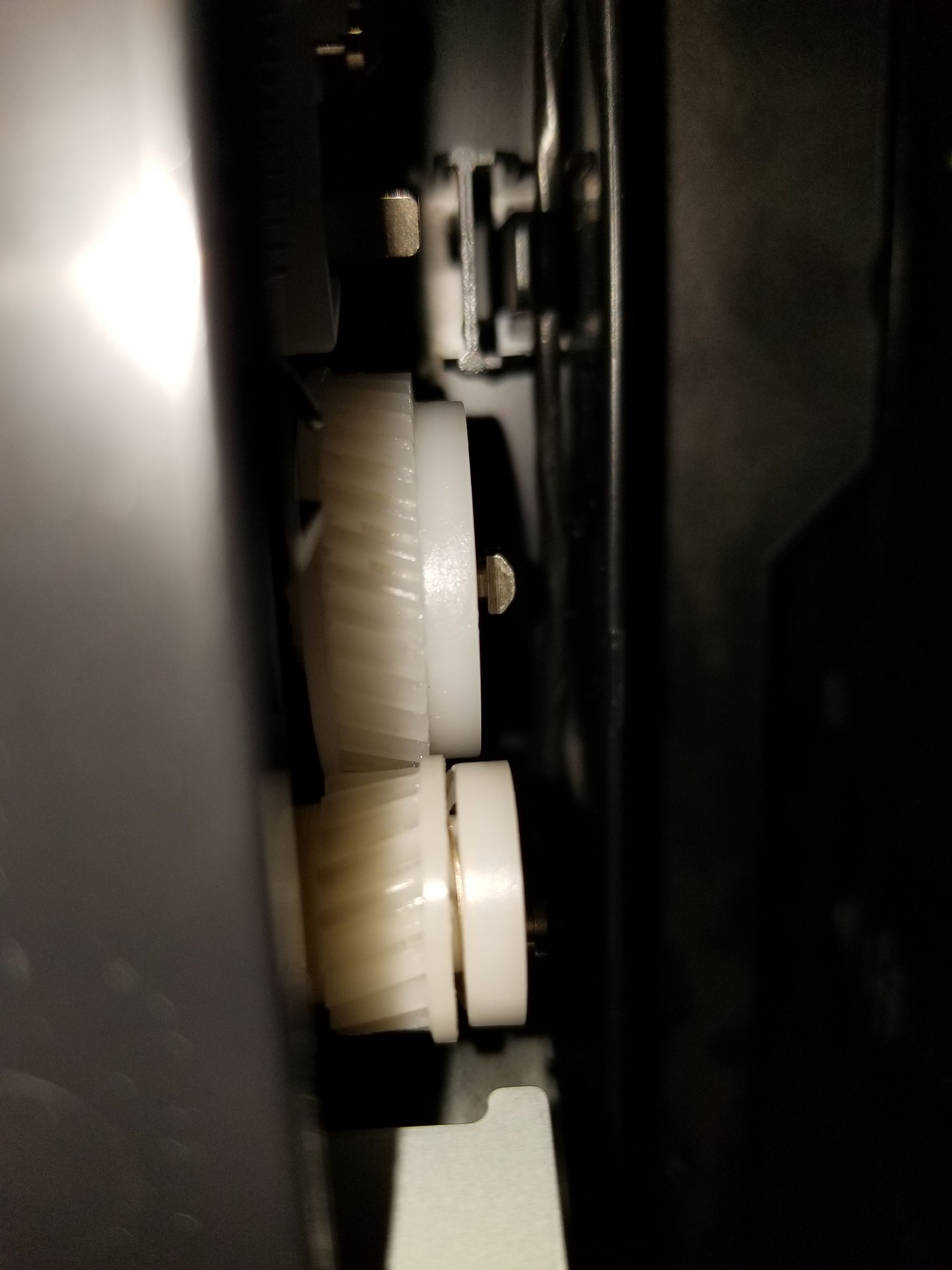 Why does it work like is? I assume it's so that if you need to pull jammed docs out in the opposite direction, that force isn't send back to the motor. I also means if it jams, the motor will instantly disengage. The issue was the Helical and Puller gear would not engage due to being slightly misaligned, they both had flanges which stood proud of the teeth preventing them engaging if not aligned properly. To fix the issue I tried a few things such as trying to reduce the clearances/play in the bearings by inserting thin metal plates or wrapping wire round the bearing, nothing really worked, it was hit and miss. Then I thought well all I need to do is hold that arm down for the gear teeth to stay in contact. The solution....a chopped down piece of Stadler eraser lol, it had enough rigidity to wedge itself in there and absorb a small amount of feedback plus it was easily removed if required. I had it scanning piles of blank paper for hours testing it out.....not a single hiccup, ADF has functioned perfectly in the months since.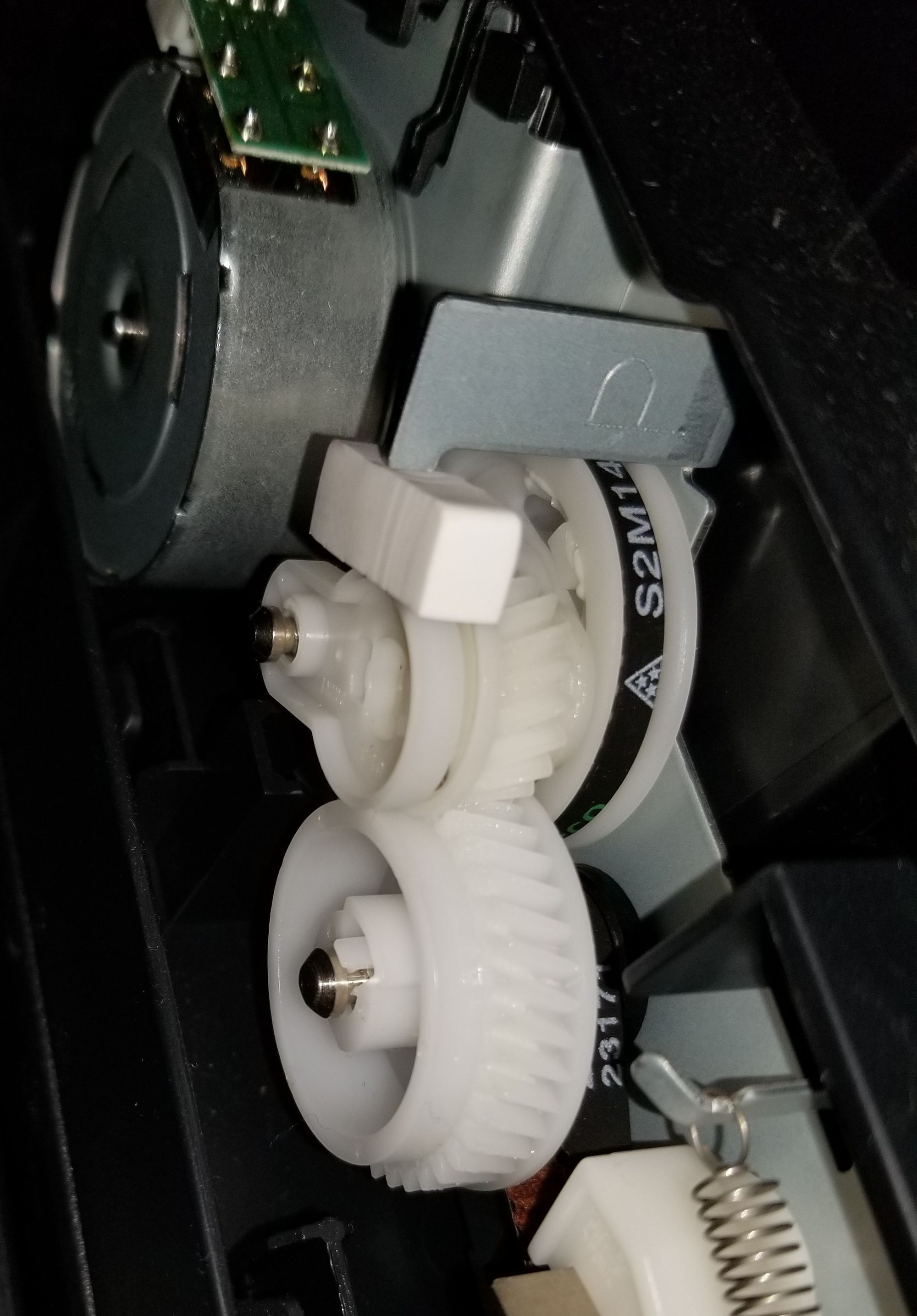 MFC-J6530DW
Arrived without any issues and performing well, does lovely pictures in full A3 glory. I bought a CIS system for fitting once the current carts run out...post to follow! Another post to follow when the CIS is fitted.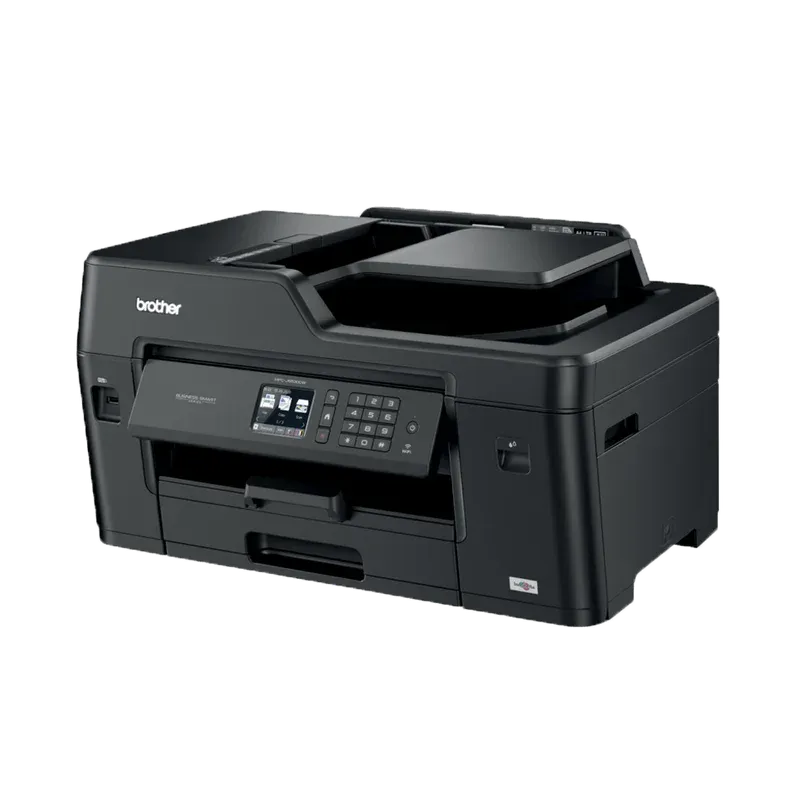 Specs
Both printers have the same features available including a highly configurable Web UI for setting up the network scan options.
Print from - Facebook, Dropbox, Dropbox for Business, OneDrive, EVERNOTE, OneNote, Box, Box for Business, Flickr, Google Drive, Google Apps for Work
Scan to - Microsoft Office, Scan to Searchable PDF, Easy scan to Email, Scan to Mobile App, Scan to SharePoint (via Control Center 4 only)
Home Assistant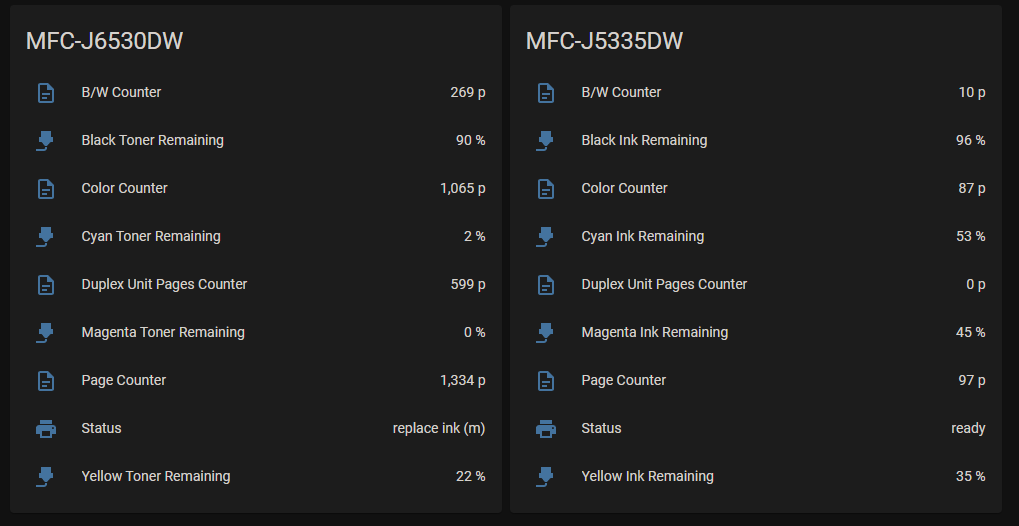 There's rather good HA integration for Brother devices enabling monitoring of ink levels and such. Just install the integration and add the printers IP.