For many years I've been drooling of the Ubiquity AP range of hardware controlled WiFi access points. They do have a lovely ecosystem of cameras, AP's, Switches, Doorbells, Firewalls etc. The problem I had with Ubiquity was the increasing cloud based nature and possible backdoors built into their product range, they've also had some monumental hacks of late which they're trying to keep quite. They are also very costly for what they do.



For along time my Draytek 2860Vn was my main router/firewall and also hardware controller for my two Draytek APs. Now that it's been replaced with an OPNsense VM firewall, it was time to start on the WiFi upgrade project. Firstly I need to explain the construction of this property a bit. The house was built in circa 1850 and as such, being of Victorian construction, the walls are made of sandstone blocks a good few feet thick. The house was built even before gas lighting was a thing and never designed for cables at all. Wifi in the early years was always a struggle especially back in 2003 when I put in the first Linksys WRT54G router. The solution to this problem was more AP's but in those days Mesh (which I still don't trust) didn't exist and so my only solution was to run an ethernet backhaul from the primary router sited downstairs to an AP in the attic. AP's in the attic didn't have the same problem with sandstone walls as the AP's downstairs as the ceilings are just plaster, no problem for on suitably mounted attic AP to penetrate and cover all the upstairs rooms.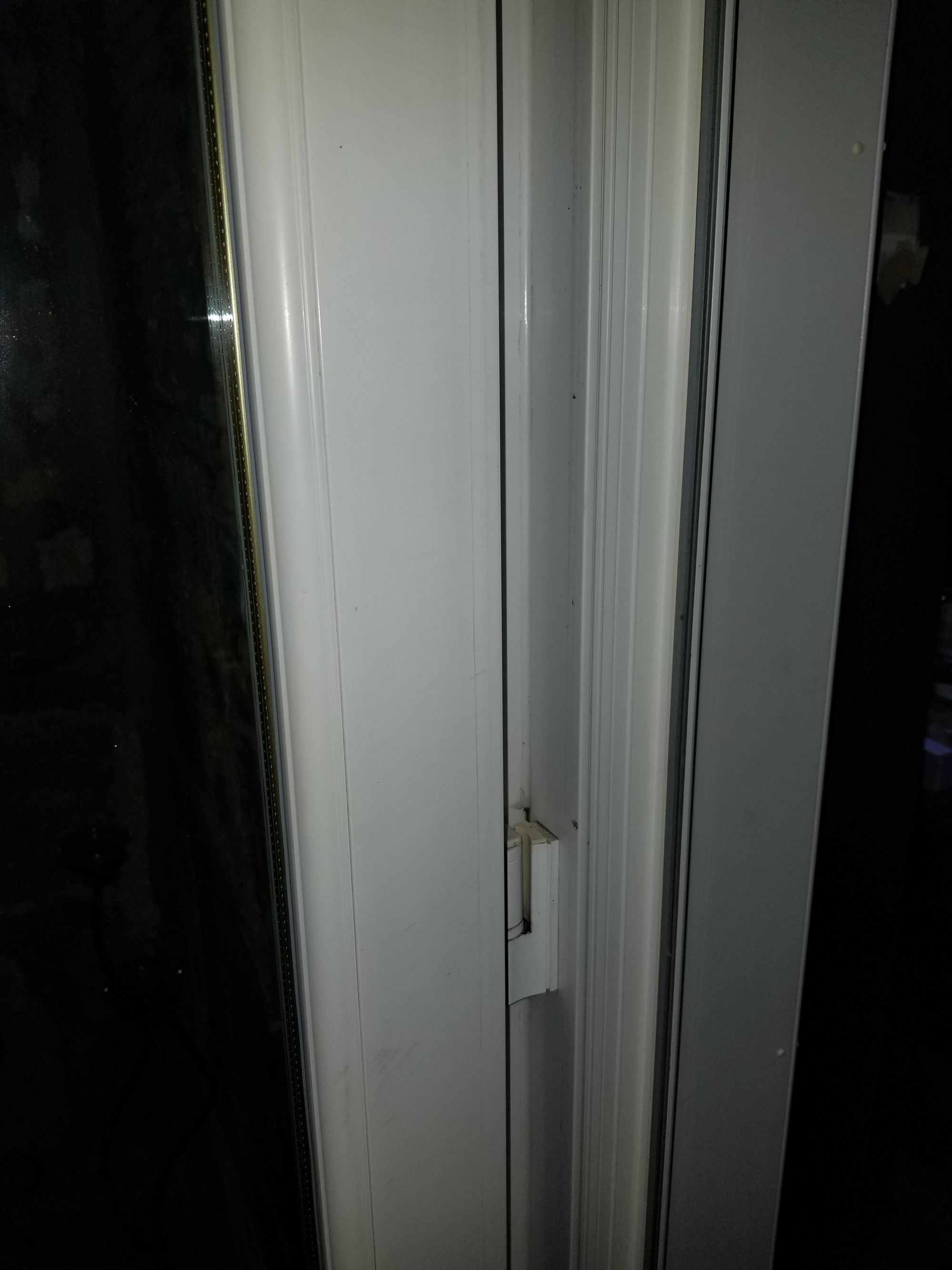 Downstairs was another matter entirely, again due to the thick walls almost every room would need it's own AP and ethernet backhaul! The primary router was in the kitchen is at one corner of the house and so would really only cover that area and maybe the next room with drastically reduced bandwidth. Another AP would be required in the living room which was at the diametric opposite from the kitchen. With this in mind in 2008 I decided to to run an ethernet backhaul cable from the primary router to the attic and then also down to the living room. Luckily where the router was sited, a small trunk built in from the 1960s when the house got its first boiler. This was to house all the hot water pipes running into the attic header water tank. These were all disconnected in the mid 90s so the old pipes were available for running cables down or just pass them down the trunk space. Getting a cable into the living room was slightly easier as it still had an old TV ariel cable installed in the exact location I wanted to site the AP, the solution was to attach the CAT6 attic end and pull it down. At the time of running these cables I also replaced the ariel coax with a new cable and also a telephone line cable from the kitchen into the attic, ADSL was still in use at the time and I wanted future flexibility which and ADSL modem sited in the attic, in the end it never got used. As for garden access...forget it! Outdoor AP's in those days went for an easy £800 for a standard device and twice that for a PoE version, not including the PoE switch! It also meant running more exterior cables which are unsightly and a major undertaking on sandstone walls, they don't take cable tacs and the grouting just fell away.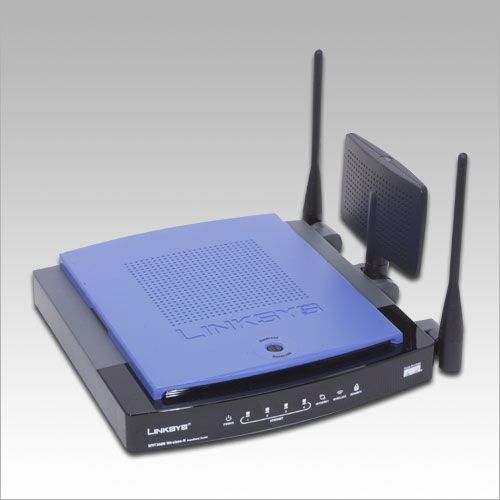 This arrangement was okay for a while however at the time the additional APs were repurposed cheap routers, not the best for administration plus there was no roaming or zero hand off at all. In 2010 I decided each room was getting dual CAT6 lines as now most rooms had media centres (some SFF PC's and soft-modded Xbox's) streaming AVI's via SMB from a few NAS devices, this kind of bandwidth use would kill the WiFi. I also installed a cable for future outdoor AP that sat unused until recently.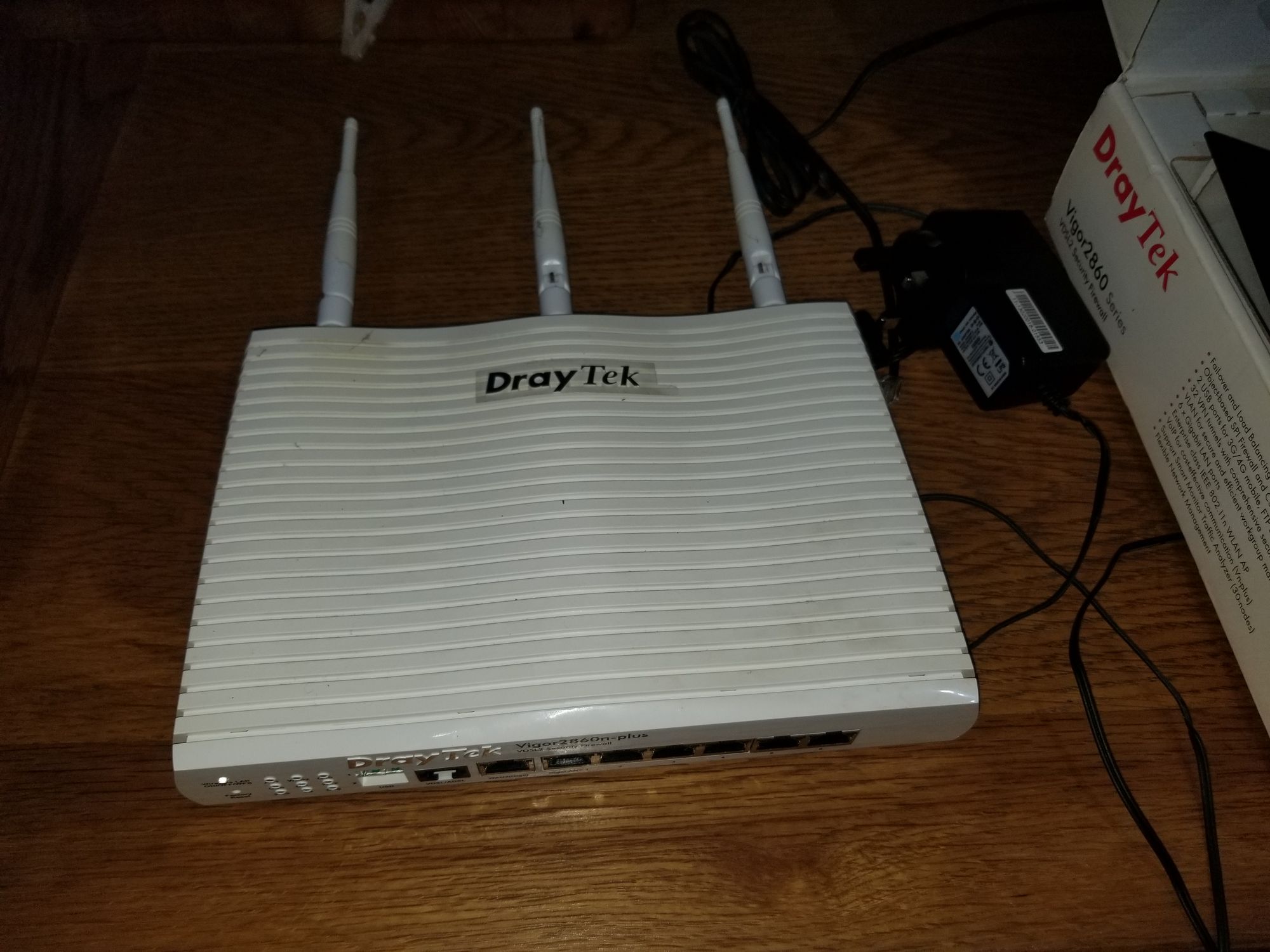 The new Drayek routers introduced in 2013 had the ability to function as a hardware controller for Draytek AP's, these were okay but the zero handoff/roaming never worked well especially when I introduced VLANs. I went through two Draytek APs in the attic, each one would be fine for a while then started suffering from strange firmware issues, not responding, needing re-flashed etc. This was despite being PoE powered from a small Netgear PoE switch (for the 2012 PoE camera project) so if there was any surges the switch should have got zapped first, there was never any issue with the switch...strange. All the attic equipment is now protected by UPS. This brings me to present day where I had enough of the WiFi issues and also wanted to finally put in a garden/outdoor AP. Going back to Ubiquity, I was looking for a cheaper alternative and without the cloud nonsense they seem to be obsessed with. After asking about on the IBRACORP discord room the new TP-LINK Omada range was recommended. After some research Omada was absolutely perfect for my needs and at almost 1/3rd the expense of Ubiquity. The AP's would function on PoE 802 af where as Ubiquity would mainly need 802 at, no PoE switch upgrade needed...another expense.

Given technology had moved on, I bought two EAP225 Outdoor AP's, one for downstairs mounted on the pole that holds my two upper screens at the battle station and the other going in the attic. This was to evaluate the devices before buying a ceiling mounted AP for the attic which could only go there. The controller was then installed onto the unRAID server in a container, it was simply a case of plug and play, the container would send all the VLAN and SSID settings to the APs in seconds.  Zero handoff/roaming was absolutely seamless even with media players or VOIP. Bandwidth was also excellent on tests including coverage, now I only need one AP downstairs, one in the attic and one outdoor AP. All the media players were replaced with Amazon FireSticks years ago streaming from Emby (GPU Transcodes as the library is mainly x265). The Omada AP range comes in pole mounts, ceiling & wall plate versions, currently there is no desktop version.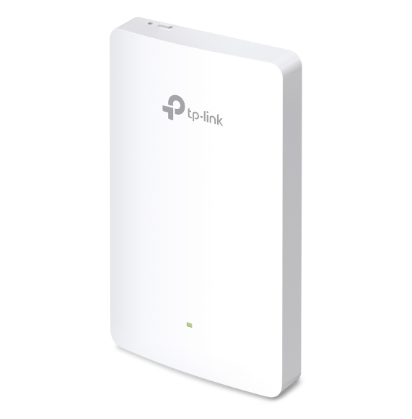 Now the APs were proven after a few weeks of intense use I purchased a ceiling mounted EAP225 version to mount in the attic roof peak and moved the previous one (an outdoor AP) to the garden. The garden is about 35 metres in length with a small summer house at the bottom so this is where the real test came in. The AP's did not fail to disappoint! Even at the end of the garden I had a strong signal on all WiFi devices (mainly android phones) and excellent bandwidth at 600-700 Mbps..more than enough for streaming  1080p content. The android app is excellent also, you can control all aspects of your config very easily plus access information on all connected clients/neighbouring APs/statistics. Firmware update is also a single click to upgrade them all! The Omada container is on a NoT VLAN so it has no WAN access at all, no back doors!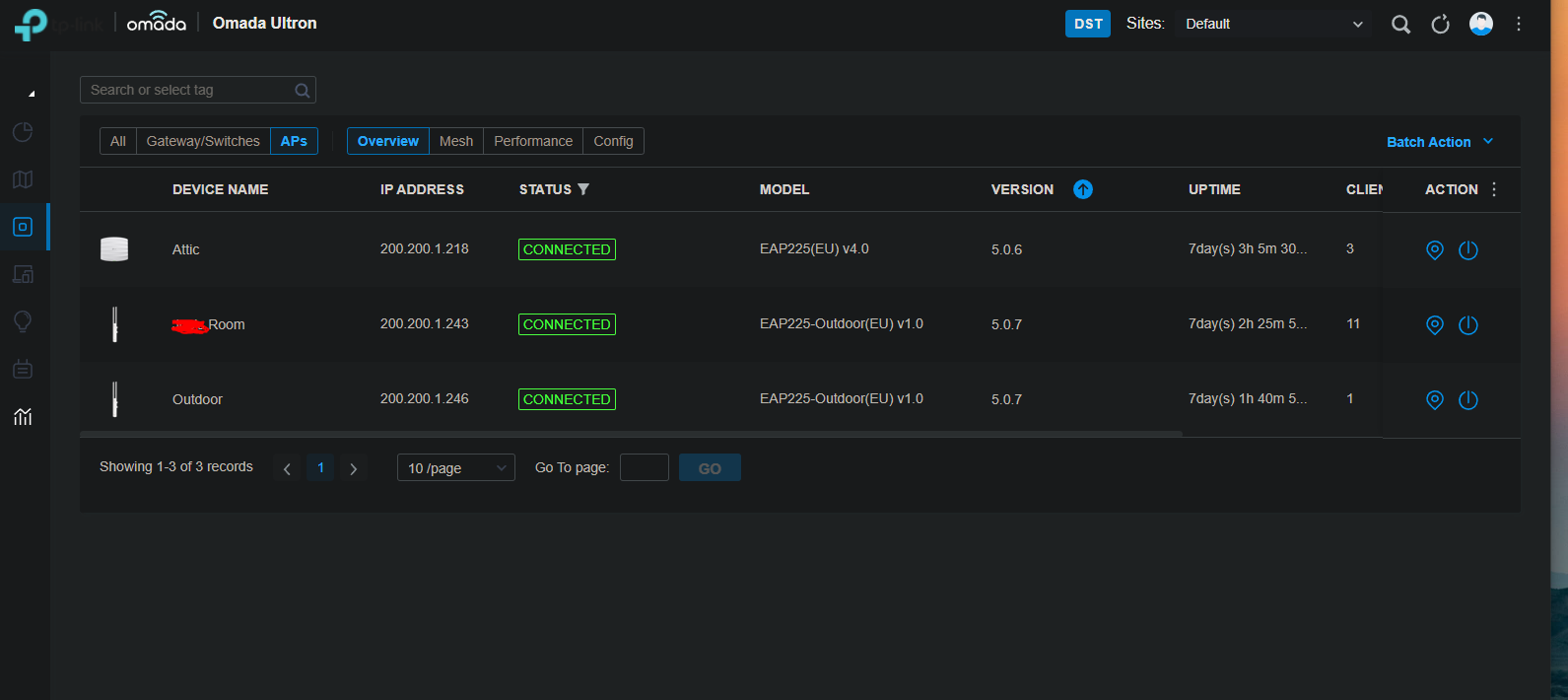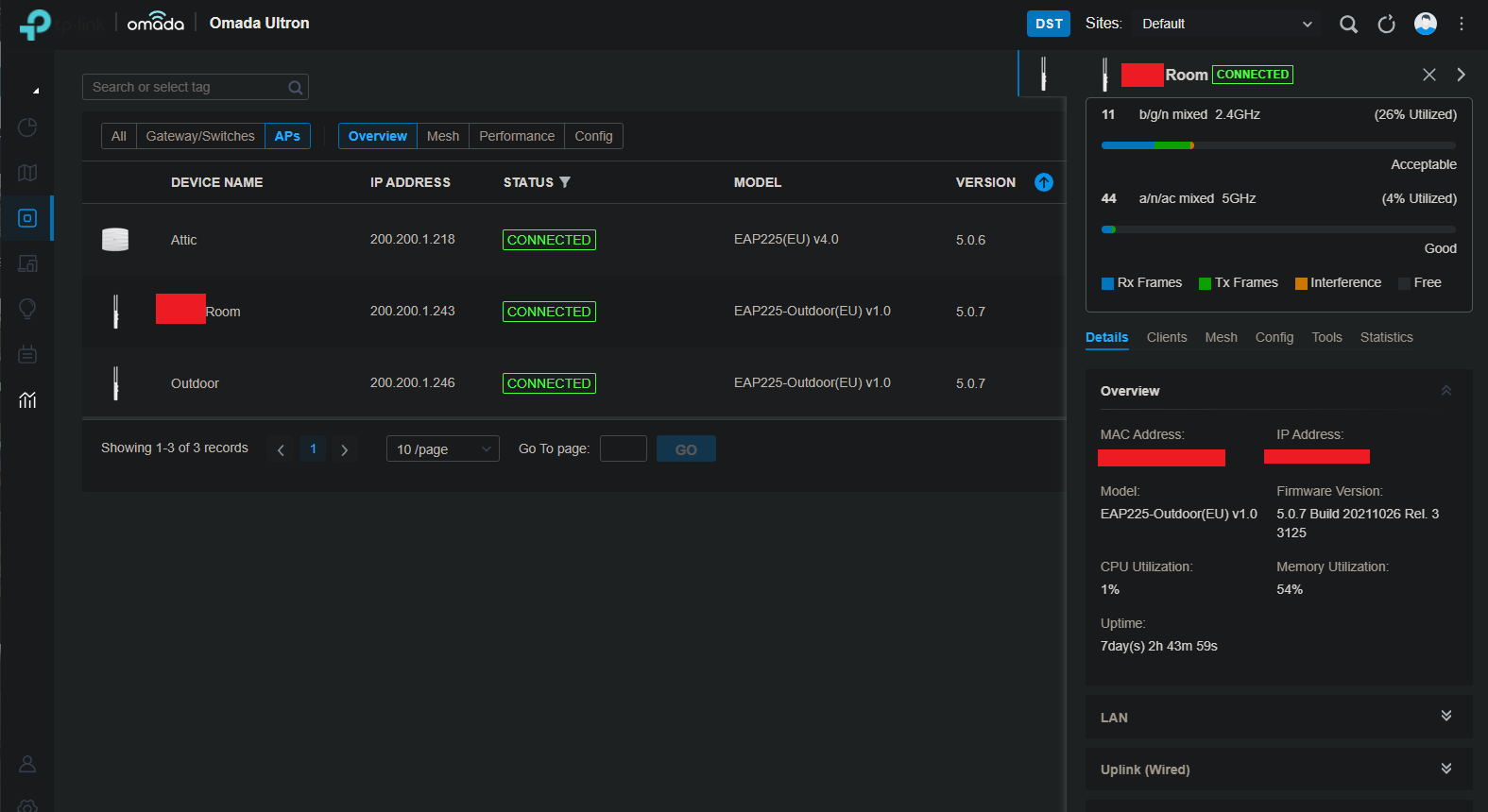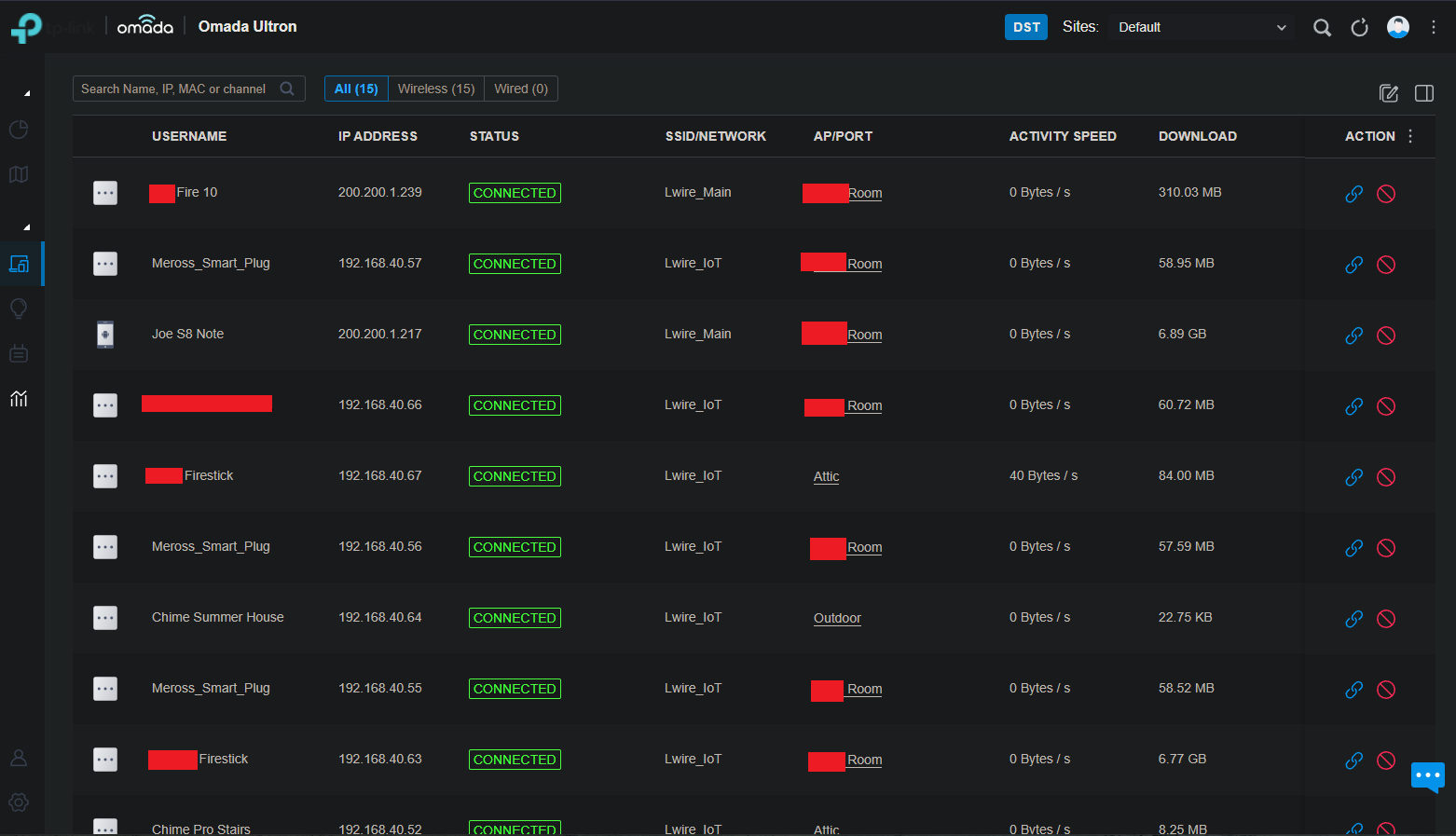 In conclusion these have been an excellent choice and almost cost neutral as I sold my old Draytek equipment on ebay. The outdoor APs were £90 from Amazon and the Ceiling AP £65, controller is free if self hosted. Why not WiFI 6 you may ask? I don't as yet do 4k and it just isn't worth the expense at this stage, these will happily do 4k transcodes if need be, anything heavy runs off the CAT6 backhaul. Will it be an option in the future? Of course it will but when I have the need. Omada also supports other devices in the range such as switches and firewalls, the next stage will be to replace my 48 Port Netgear and 8 Port Netgear switch with Omada range devices. They also have a range of Omada WiFi 6 AP's coming out but I suspect these will require a 802 at switch which will be part of the external camera upgrade project.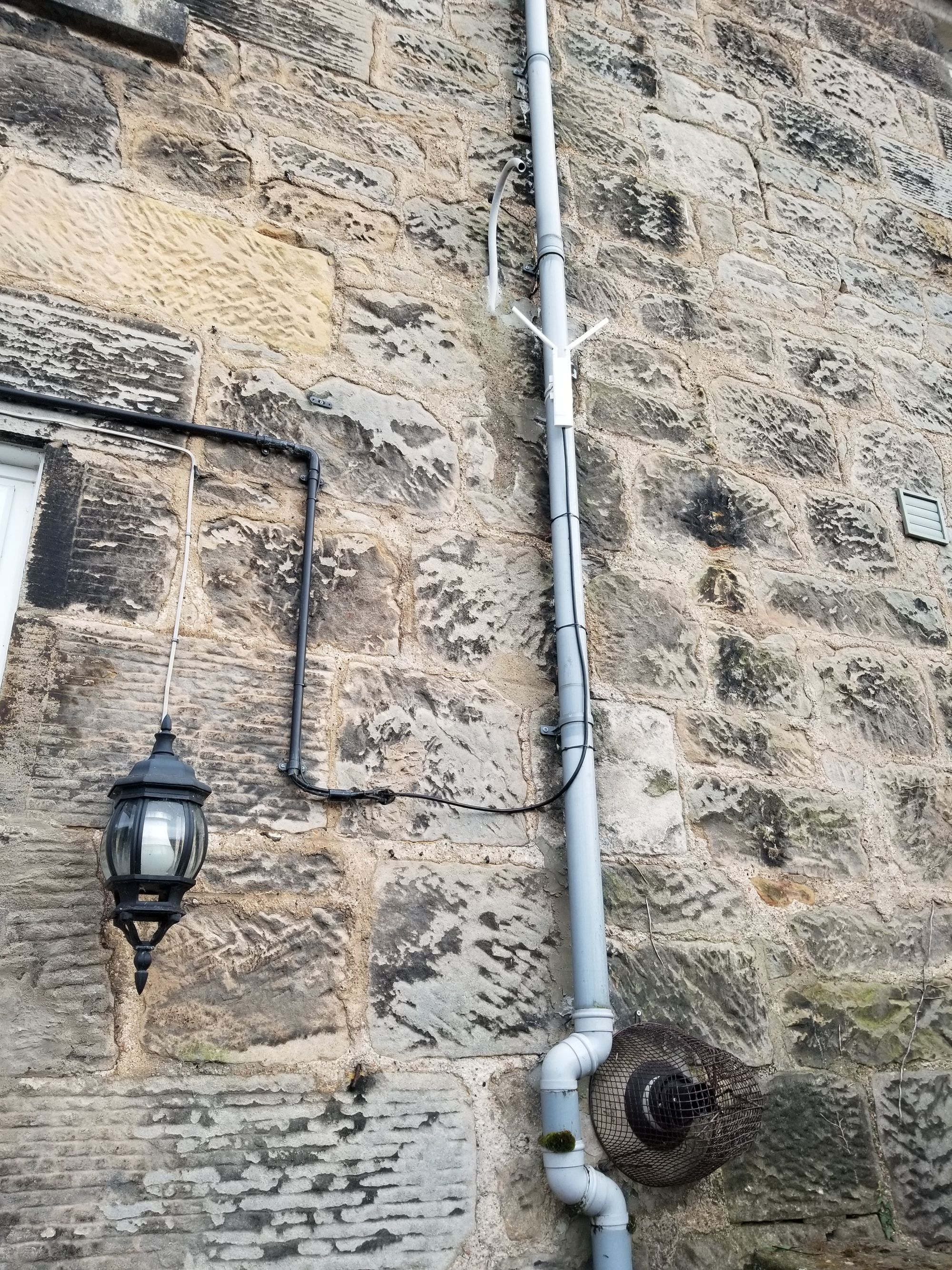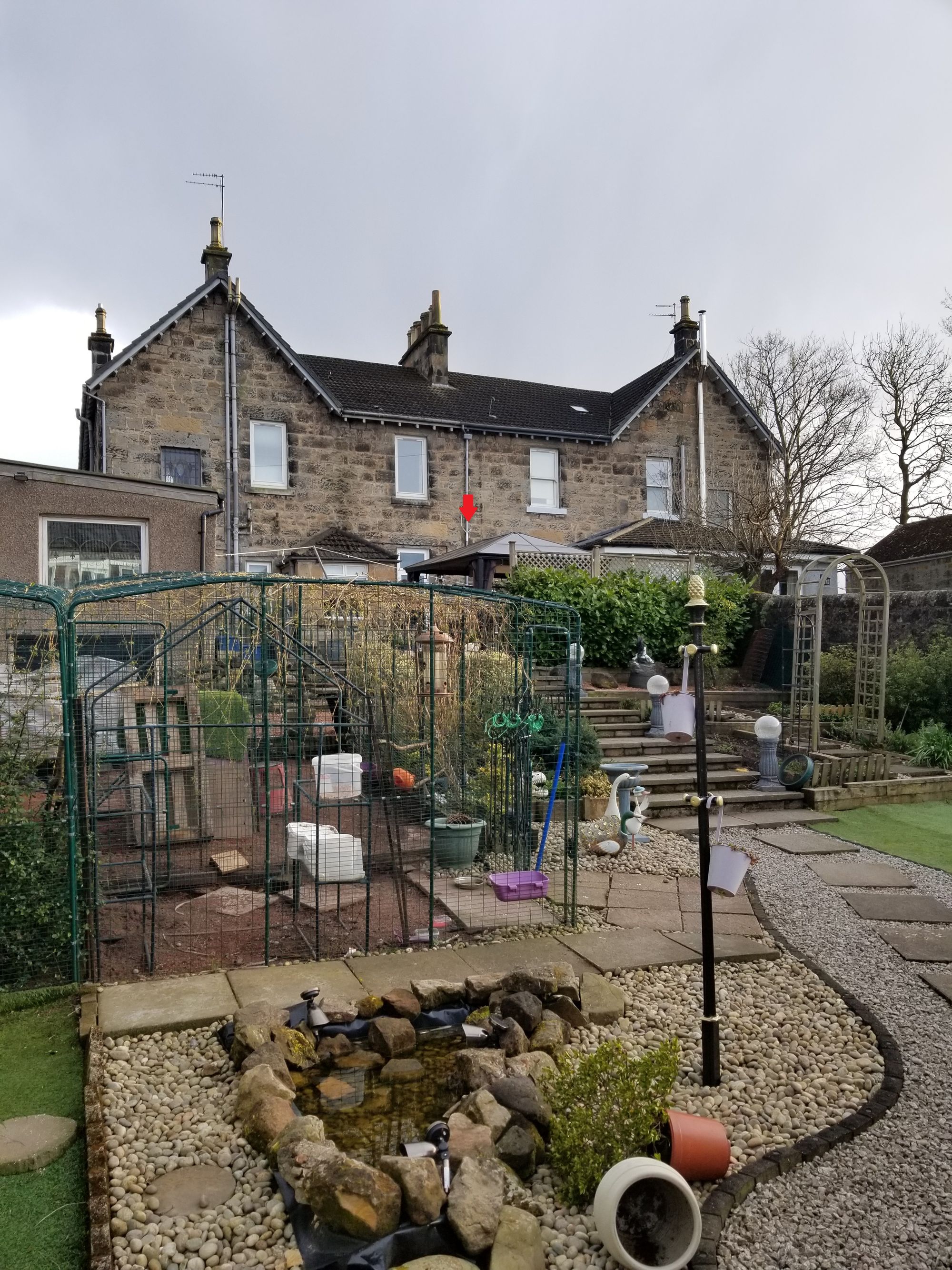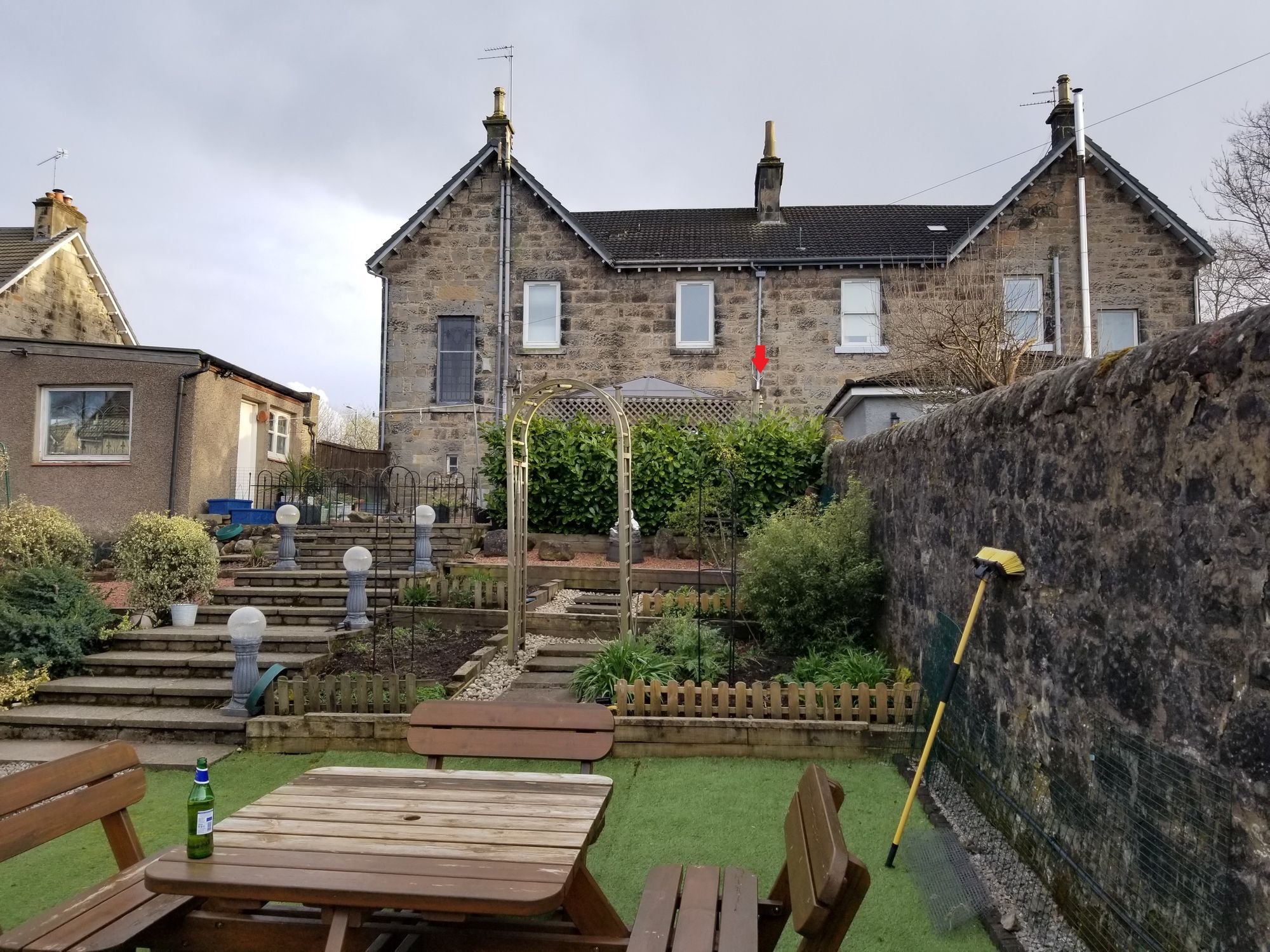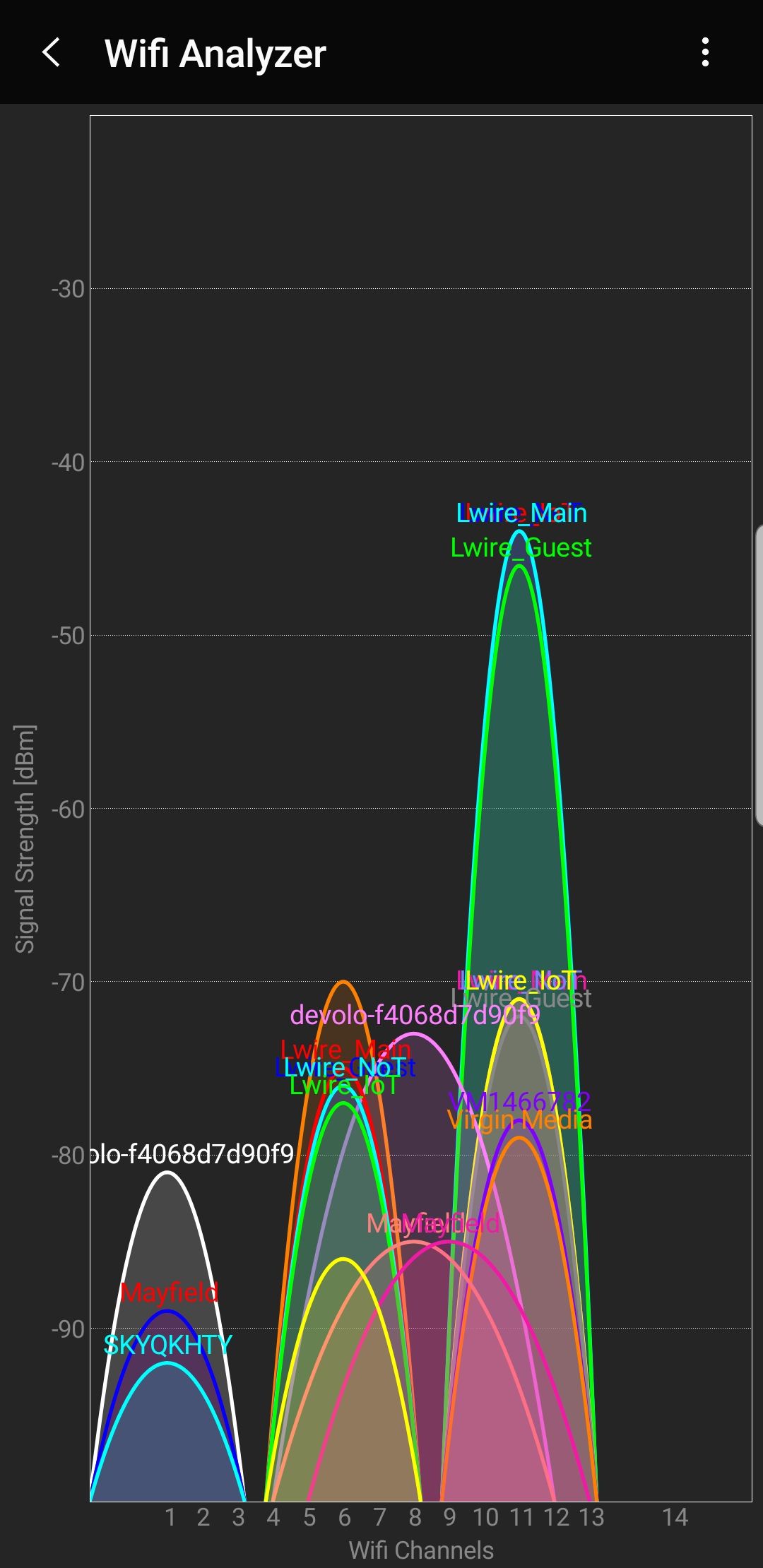 **All Omada AP's come with a PoE injector so a PoE switch isn't required.